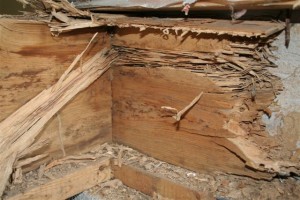 Because every home or business is different, we provide a customized treatment plan to rid your property of Termites. Dewey Pest & Wildlife uses the most advanced methods to manage termites. Some programs feature only baits or just liquid treatment but we provide several different tactics to manage termites.
We provide several different tactics to manage termites:
A qualified technician with a Category 43 license will complete a thorough inspection of your property in order to develop the correct program.
Moisture management and food source management reduce the number of areas that are conducive to termites.
Monitoring stations help locate and identify areas where termites are active. Our hybrid service allows our technicians to treat only the affected area, while installing monitors around the rest of the property.
Advance Termite Bait System (in ground) that is used around your home or business where termite activity is found.
A residual soil treatment using either Termidor, America's #1 Termite Defense Product or Altriset, a low risk termiticide.